TODAY is the day Ladies!!
Link up with me (and add your link to the list below) because it's
May, bikini season is here and we are all counting down the days til vacation time!
Every year we go to the beach with my parents. The hubs and I have a GREAT relationship with my parents and we tolerate each other very very well during vacations! My children are the only grandchildren they have for right now and we live about 4hrs away from them so when we go on vaca together, the hubs and I also get small vaca's throughout the week when my parents take the kiddos for something fun!
It's a WIN WIN for everyone! And we all get along so it really is the perfect set up!
We will leave for the beach on June 28th and return on July 7th. That is 8 weeks for me.
I have accomplished a lot in the past 8 weeks so I know if I put my mind to it I can make great strides toward being satisfied in a bikini by then.
I need accountability and a steady program though!
So today starts my
SUMMER AB CHALLENGE
It is 6 weeks
3 Phases
Designed by a boot camp instructor
Kick your BUTT kinda workout!
We will rest every 4th day but we transition after 14days so the rest day will get a bit mixed up but never fear, I wrote the "dates" that you Rest on the picture!!
For the first week you will do the 100Crunch Set twice
The second week do it 3 times.
I'm also going to be linking up with SkinnyMeg's Workout Wednesday so you can find some helpful advice, tips and tricks over there on her awesomendo blog too!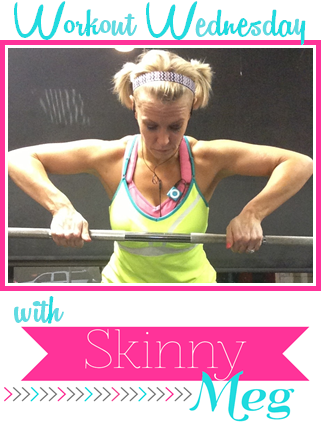 ****YOU CAN'T OUT TRAIN A BAD DIET****
I have to keep this in mind and really be cautious of what I eat over the next 6 weeks. I really want to see some definition in my abs and get my baby tummy toned!!
Here are my "BEFORE" AB CHALLENGE Pics
Let me say I L.O.V.E my new bathing suit from Venus. The bottoms have the perfect coverage for my ghetto booty and the ruched sides are much more flattering than a string on me! (plus I got this baby for under $80) :)
I lowered the band a bit so you can see my trouble area...the BLASTED never disappearing crease! See it? Right there?
I'm on Day 12 with the Squat Challenge and well ladies...it is working!! I can't wait to see it in 18 more days!
Now for a little comparison on how far I have come!
Left is end of Feb- Right was Sunday
I just didn't realize the difference until this picture!
SUPER PROUD MOMENT!
OK so take you pictures and lets BLOW THIS CHALLENGE UP LADIES!!
Any questions, progress reports or just basic support please comment below, email me @ sweetsouthernmel@gmail.com or hit me up on Instagram!! And don't forget to #SSMelsSummerAbs with your progress!!


GRAB MY BUTTON & LINK UP WITH ME HERE IF YOU WILL BE JOINING US!