Hey ya'll!!!
Who is ready for Phase 2 of the SweetMel's Summer AB Challenge? I know I am because that plank decreases in time! I swear I don't think that got any easier at all!!
Let's start with my Recap from last week! Not as great as the week before but my body needed a break. I did however do better with my food choices for the most part(minus the pooping cookies). I was feeling exhausted and that was not helping my mood for the week. Back at it this week though. I guess we will see next week!

Monday
-

Jamie Eason Live Fit Day 57 (Quads and Calves)
DAY 17 Squat Challenge 150reg Squats & 110 Plié Squats
Day 6 AB Challenge phase 1
Tuesday- Jamie Eason Day 58 (Back, Arms & Abs)
DAY 18 Squat Challenge 155reg Squats & 115 Plié Squats
Day 7 AB Challenge phase 1
Wednesday- Jamie Eason Day 59 (Chest, Shoulders &Abs)
DAY 19 Squat Challenge
160reg Squats & 120 Plié Squats
Thursday-
I had my Southern Grace Party this day and I only did my AB Challenge this day
Jamie Eason Day 60 (Hamstrings, Glutes & Abs)
Day 9 AB Challenge phase 1
DAY 20 Squat Challenge REST
Friday-Jamie Eason Day 61 (Back, Biceps & Abs)
Day 10 AB Challenge phase 1
DAY 21 Squat Challenge
180reg Squats & 130 Plié Squats
Saturday- Jamie Eason Day 62 (Shoulders, Triceps, Calves)
Day 11 AB Challenge Phase 1
DAY 22 Squat Challenge 185reg Squats and 105 Plié Squats
Sunday- Nothing - That's right I did absolutely NOTHING.
It was Mother's Day and I'm not gonna lie it felt good!
Now today we move into
Phase 2 of the AB Challenge
Here are my pic descriptions of the new exercises
HARD COUNT means count as 1,1,2,2,3,3 so on...
STARFISH Arms & Legs slightly off ground
Bring everything in at same time then back out for 1
In/Out Arms and Legs slightly off ground
Crunch in and out at same time
Knee Touches- Well crunch over and touch your knee (pretty self explanatory)
Angry Penguins (although I am changing the name to Angry Robot)
This one you go from side to side without relaxing in the middle
Ok ladies! Time to rock out these ABs!! Summer is almost here!
Don't forget to head over the SkinnyMeg's Workout Wednesday postand Link Up!! She has an awesome Inner Thigh Workout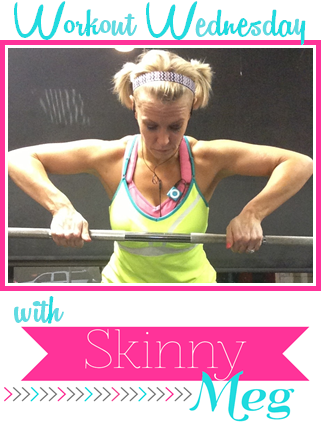 Oh and she surprised me with "Me" being her shout out for the week!! What a stinkin' sweetie!!
Lots a love SkinnyMeg, lots of love :)